WELCOME TO GUROL AQUA RESORT HOTEL & APARTMENTS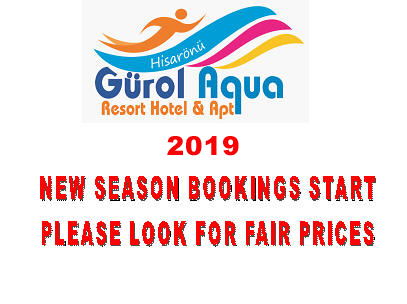 hotel only 50m from the centre of Hisaronu village, Set privately with spectacular views of surrounding mountains, Overlooking "the best" of Turkey's natural beauty.
A place never deprived of sun, this family run hotel offers a holiday that is hard to beat. The hotel is situated 3 km. from Oludeniz with its spectacular bay And blue lagoon. Fethiye is 10 km away which is the main town in the area. We are 55 km from Dalaman airport.
Most recently added photos
Go to Photo Gallery
Latest Guest Reviews
Gina Benson
Stayed here from 10th til 17th August 2015. Love this hotel!! It's location is fab . the food is lovely , pool is amazing staff lovely and friendly and they keep it spotless ..looking to book again for next year can't wait!!!
shirley / alan
stayed at gurol on and off for 15 yrs hasan and taner are family now always had a great relaxing holiday clean room fabulous pool good food everything central to bars restaurants shops and dolmus buses oludeniz 10 mins one way with the blue lagoon an fethiye 10 minutes the other also kaya koy ghost village is 10 mins also plenty of night life day trips and a very friendly atmosphere I would highly recommend this hotel to anyone looking for a family friendly relaxing holiday
Jytte and Manfred
THANK YOU BOTH FOR A WONDERFUL STAY WITH YOU. A SUPER WARM WELCOME, BEAUTIFUL ROOMS AND FABULOUS FOOD. WE HAVE STAYED IN MANY GUEST HOUSES ALL OVER THE WORLD AND YOURS HAS PROVED THE BEST. ://holiday-flat-pusteblume.eu
Go to Guest Book